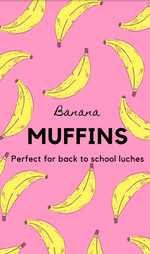 Ingredients:
2 ripe bananas, mashed
1 cup of natural yogurt or dairy free alternative
2 cups of porridge oats
2 tablespoons of Sylliflor (plain or vanilla flavour)
1 teaspoon baking soda
3 teaspoons of sea salt
Chocolate chunks
Instructions:
Preheat your oven to 175°C. 

In a large mixing bowl, combine the ingredients and add 3/4 teaspoons of sea salt.

Stir until the mixture is combined. Try not to overmix.

Fold in some chocolate chips or raisins, or dried cranberries.

Line a muffin tin with paper liners or grease the cups.Divide the batter evenly among the muffin cups, filling each about 3/4 full.

Bake in the preheated oven for 35-40 minutes, or until a toothpick inserted into the center of a muffin comes out clean.

Remove the muffins from the oven and allow them to cool in the muffin tin for a few minutes before transferring to a wire rack to cool completely.
Pack in a School Lunch:
These Psyllium Husk Banana Muffins are a sure hit with kids and make a great addition to school lunches:
They are moist, flavourful, and naturally sweetened by ripe bananas.
The Sylliflor and porridge oats add a boost of fibre for a satisfying and gut-friendly treat.
Kids will love the combination of banana and optional add-ins like chocolate chips.
These muffins can be made in advance and stored in an airtight container. They're perfect for satisfying sweet cravings while also providing a nutritional punch for school days.
Sylliflor prebiotic is suitable for children 6 years and older.